Our story
We wanted beginners to be able to use our devices straightaway and we wanted it to be as straighforward as possible.

Alexandre Vielle - CEO Ordissimo
Having seen their parents struggle to use their own microcomputers, in July 2002 three young students, Christophe Berly, Alexandre Vielle and Brice Delmotte, decided to invent a revolutionary new product: the simplest laptop in the world.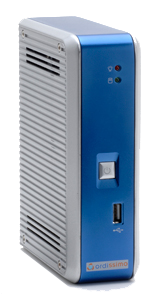 The new product had to be adapted to all kinds of computer novices, young or old, and be adapted to various uses: the general public (seniors etc.) and professionals (freelancers, retailers, artisans etc.) After two years of research and developments, the first Ordissimo computer was created in January 2005. The three students' gamble had paid off; several hundres of computers were sold online without any advertising or sales contacts!
The internet users had certainly got the right idea and started to recommend the first Linux-based Ordissimo computer to their friends and family. Customers had fallen in love with the first Ordissimo model, a blue brick that could be held in one hand.
Thanks to its instant success, the company launched their first laptop in April 2006. A month later, Ordissimo celebrated its one-thousandth customer. By the end of 2007, the company sold its ten-thousandth computer. Since then, Ordissimo sells almost ten thousand units per year.
The company now has a network of over 250 retailers in France, Germany, Belgium and Switzerland. Big brands like Boulanger and Leclerc have also invested in Ordissimo, having been convinced by its customers' appetite for Ordissimo products. In VPC, the brand is distributed by Mondadori and Domoto and is often shown on French television in TF1's teleshopping programme.
August 2002
Still students, Christophe Berly, Brice Delmotte and Alexandre Vielle create the company Substantiel in the hopes of creating the first computer adapted to computer novices.
January 2005
After two years of development, Substantiel launches its first Ordissimo model.
June 2005
To help with its development, Substantiel fundraises 300k€ from private investors, including a former CEO from the French CAC 40.
October 2005
Launch of the 'All-in-one' model with a 17" screen and 16:9 screen aspect. Ideal for multimedia, it has 4 loudspeakers, a DVD writer and is compatible with an array of different connections.
April 2006
Launch of the first Ordissimo laptop. Ultra light, it has a 12" screen.
October 2006
Launch of the first 'All-in-one' Ordissimo model.
December 2007
10,000 Ordissimos sold.
November 2008
To boost its growing fame, Ordissimo appears in a TV campaign on the French television channels, France 2, France 3 and TF1, in which Brice, Ordissimo's inventor makes an appearance.
December 2008
To support the company's commercial and technological development, Avenir Finance invests 1.2 million euros in Substantiel.
March 2010
The company starts to grow and leaves its offices in the 15th arrondissement of Paris to moves to more spacious offices in Montrouge.
November 2010
Launch of the Ordissimo Version 2.
July 2011
Launch of the first touch-screen Ordissimo tablet.
September 2012
Launch of Ordissimo in Germany.
August 2013
50,000 Ordissimos sold
November 2014
Ordissimo launches its collection of 'Edissinautes' and publishes the first volume of its useful information handbooks. An immediate hit, 2500 copies are preordered.
November 2014
Launch of the Ordissimo Version 3. The entire model is improved and more softwares are installed so that all users can enjoy a more complete Ordissimo experience (LibreOffice for example.) The video function and internet are made quicker and smoother to use.
February 2015
The Ordissimo Academy is launched and training sessions are organised in around 15 French cities. An ideal way to learn how to use an Ordissimo computer in a friendly environment.
April 2015
The first edition of the new Ordissimo bi-annual magazine is published. Completely free, it is designed to showcase the Ordissinaute community as well as the latest Ordissimo products. The first edition was sent to almost 50,000 users!
September 2017
Launch of the first Ordissimo smartphone "LeNuméro1!"
January 2018
The company Substantiel S.A.S becomes Ordissimo S.A.
June 2018
Ordissomo S.A enters the stock market with Euronext Growth.
December 2018
Launch of the Ordissimo Version 4. More Features, 64-bits support and a new interface
August 2020
Ordissimo S.A. acquires Mustworld Society and its 3 activities: audio with UB+, phone accessories (covers, protections) and all cables (headphones, chargers...)
July 2021
The Celia tablet, Ordissimo's first Android-based tablet, wins the "Pleine Vie 2021" award in the "Computer & Phone" category
January 2022
Ordissimo S.A. is acquiring the American company Pix-Star and all the connected digital photo frame technology it markets, adding a new string to its bow. Ordissimo will be the main supplier of frames to this new US subsidiary, for which it will purchase the products from suppliers and develop the software.